How to buy a New York Subway MetroCard
Buying a MetroCard doesn't have to be difficult.
We're here to help you navigate the tunnels like a pro!
– Any subway station via machine or teller.
– Some merchants sell select cards. Grocery stores or newsstands who do will have a MetroCard posted in their window.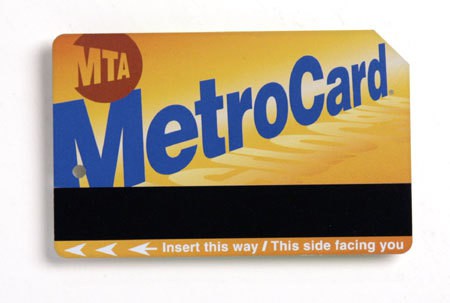 – You cannot purchase MetroCards on buses.
– The only MetroCards available to purchase online are intended for people who need a card every month. If you are a visitor to NYC it is best to buy your card in the city.
How to Buy MetroCards: 
– Vending machines will take cash, ATM cards, and all major credit cards.
– Tellers can only accept cash.
– If you're paying by cash at a machine, be aware that the machine can only give up to $9 in change and it is paid out in change, not bills.
– It you're paying by credit at a machine with a foreign billing address, be aware that they will ask for a billing zip code. Enter "99999" in this field which indicates to the machine that an international card is being used.
Regular Pay Per Ride MetroCards: 
– These can be shared with up to 4 people per card. You can each swipe the turnstile separately or the first person can swipe 4x's and have everyone follow through the turnstile.
– If you put $5.50 or more on a card, rides are $2.75 one way but you earn a 5% bonus. For example at $20 card will earn you an extra $1.
Unlimited Ride MetroCards: 
– These passes are only good for one person, they cannot be shared. Once swiped you cannot use the card again for another 18 mins.
– The 7 Day Unlimited Pass is $32. It's good for a full 7 days from the first day you use it.
– The 30 day Pass is $121. It's good for a full 30 days from the first day you use it. This option is only a good deal if you will be in the city for 3- 4 weeks and plan to use the subway at least twice a day.
**Both Regular Pay Per Ride and Unlimited cards can be used on all the Subway and Bus lines. There is a free transfer between subway and bus or bus to bus. Only the Pay Per Ride cards can be used on the PATH trains.
**Discounts: The MTA states that "up to 3 children 44 inches (3.6ft) tall and under ride for free on subways and local buses when accompanied by a fare paying adult."  The city does offer a reduced fare for seniors 65yrs+ but since you have to apply for the discounted card making it inaccessible to non-residents.
All this information and loads more can be found at the MTA website.
Our suggestions for your Real New York Tour: 
Every MetroCard purchase requires a $1 new card fee. Hold on to your cards and refill them when needed. The $1 charge does not apply if you're refilling cards, only when you're buying a new card. Our 6 hour tours (NYC in a Day Group and Private Tours) require 3-4 subway rides. You can put $10.50 on a Regular Pay Per Ride MetroCard, and with the new card fee your total will be $11.50. With the 5% bonus you will now have 4 rides on your MetroCard.
Our 3 hour tours do no take many subway trips but having one or two rides on a card will be helpful. The cost of two rides is $5.50, and with the new card fee your total will be $6.50.
The subway is really the most convenient and economical way to get around the city. If you plan on riding the subway a few more times during your stay you should consider putting $21 on a Regular Pay Per Ride MetroCard, which would be $22 total with the new card fee, and you would have 8 rides. If you're staying in the city for 4+ days then your best option may be the 7 day pass for $32. If you take only 13 trips on the subway this pass reduces the fare to $2.46.
Of course if you encounter any trouble, don't worry! Our guides would be happy to help you the morning of your tour.